If you are looking for a high-quality and precise tool for trimming your plants, flowers, herbs, or cannabis, look no further than the Zenport H355 Microblade Pruner!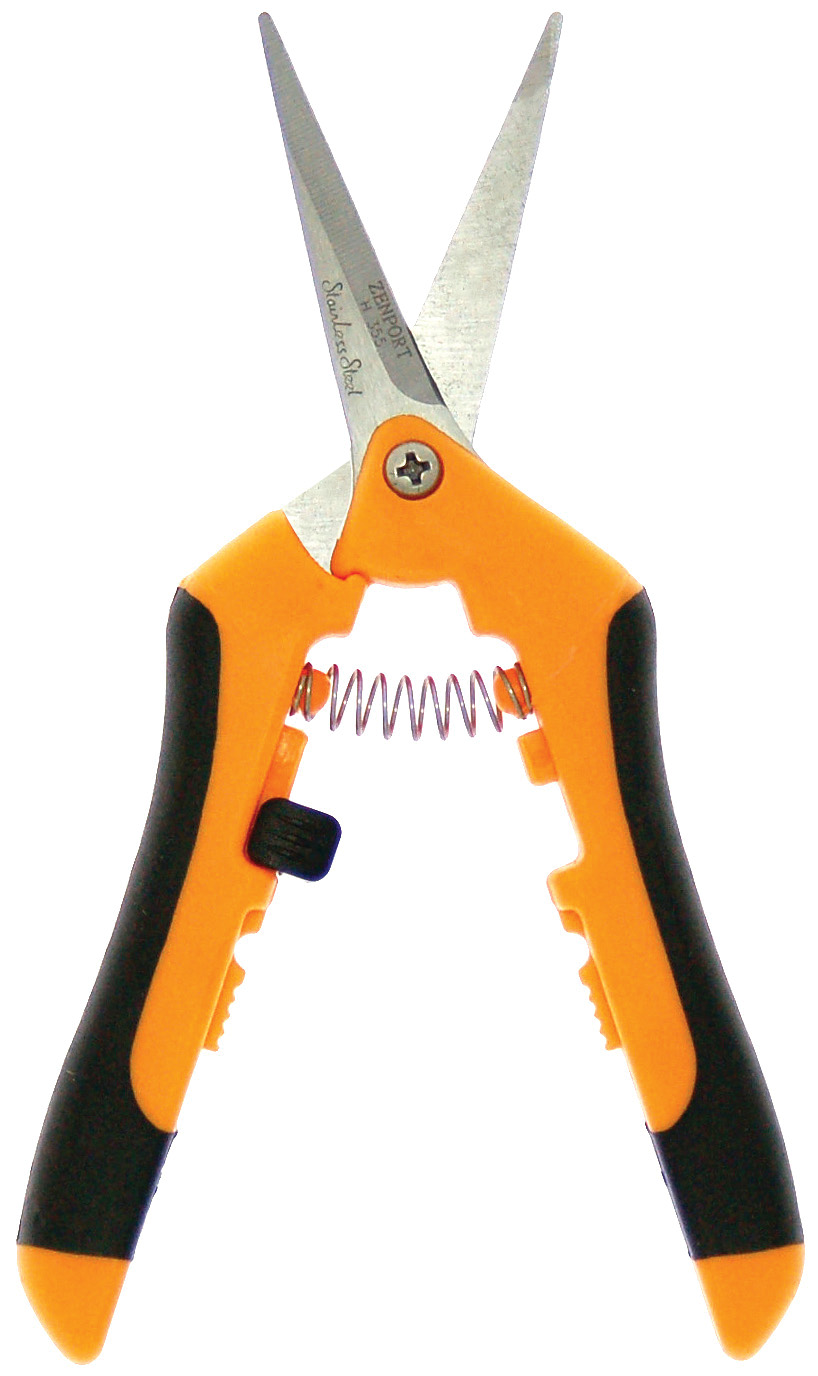 This amazing product features straight stainless steel blades that are easy to sterilize and prevent rusting. The blades are also narrow and fine pointed, allowing you to cut specific stems, leaves, branches, and buds with accuracy and ease. The handles have comfortable rubberized sides that improve your gripping power and reduce hand fatigue. The Zenport H355 Microblade Pruner is lightweight and spring-loaded, so it automatically opens after each cut. This makes it ideal for long hours of pruning and harvesting.
The Zenport H355 Microblade Pruner is not only a great tool for gardening enthusiasts, but also for professional farmers and growers who need to trim large quantities of plants quickly and efficiently. Whether you are growing vegetables, fruits, flowers, herbs, or cannabis, you will find that the Zenport H355 Microblade Trimmer can handle any task with precision and speed. You will be amazed by how much time and energy you can save with this product.
The Zenport H355 Microblade Pruner has a cutting capacity of 1/4 inch (6 mm) and a blade length of 2.25 inches (57 mm). The overall length of the product is 6.625 inches (168 mm) and it weighs only 0.14 lbs (64 g).
To take care of your Zenport H355 Microblade Pruner , make sure to clean it after each use with alcohol or bleach solution to prevent contamination. You can also sharpen the blades with a whetstone or file if they become dull over time. Avoid dropping or bending the product as it may damage the blades or handles.
The Zenport H355 Microblade Pruner is more than just a pair of scissors. It is a powerful tool that can help you achieve your gardening goals and dreams. Whether you want to grow beautiful flowers for your home decoration, delicious herbs for your cooking recipes, healthy fruits and vegetables for your family's nutrition, or potent cannabis for your medical or recreational needs, you will find that the Zenport H355 Microblade Trimmer can make it happen.
Here Are Some Tips On How To Trim Marijuana Buds With The Zenport H355 Microblade Pruner:
Start by removing the large fan leaves from your plant. You can use your fingers or a pair of pruning shears for this step.
Next, use the Zenport H355 Pruner to cut off the smaller sugar leaves that stick out from the buds. These leaves contain less resin than the buds and can affect the taste and appearance of your product.
Hold the bud by its stem and rotate it as you trim around it with the scissors. Try to cut as close to the bud as possible without damaging it.
Be careful not to squeeze or crush the bud while trimming it. This can cause some of the resin glands to burst and reduce its potency.
Trim all your buds until they have a nice shape and size that suits your preference.
Dispose of or save your trimmings for later use. You can make hash oil, butter or edibles from them if you wish.
Don't Take Our Word For It Though. Here Are Some Testimonials From Customers Who Have Used This Product:
"I love these trimmers! They are so sharp and precise that I can trim my plants without damaging them. They are also very comfortable to hold and easy to use." – Sarah M., California
"These are the best trimmers I have ever used for my cannabis plants. They cut through stems like butter and leave no residue on the blades. They make trimming so much faster and easier." – Mike R., Colorado
"I bought these trimmers for my flower garden and I am very happy with them. They are very lightweight but sturdy enough to cut through thick stems. They also have a nice curve on the blades that helps me shape my flowers better." – Lisa K., Florida
Order Your Zenport H355 Microblade Pruner Today And Enjoy The Benefits Of Having A Professional-Grade Trimming Tool At Your Fingertips!
These Shears Are Commonly Used For:
Trimming Marijuana Buds
Extreme delicate Plant pruning
Precision flowers display cutting
Deadheading dying blooms
Cutting culinary herbs
Thinning plant leaves or stems.
Zenport Shears H355 Hydroponic Micro-Blade Trimmer, Cannabis Flower, Weed Trimming Scissors
New Products